AUGUST 19 at 8pm
World premiere semi-staged workshop performance in Haliburton, ON

Highlands Opera Studio @ Northern Lights Performing Arts Pavilion

Experience this important new work combining opera and First Nations singers and instrumentalists, created by Cree composer, Andrew Balfour.
In Anishinaabe aadizookaan (traditional storytelling), particularly among the Ojibwe, Nanabozho is a spirit who figures prominently in many stories, including the story of the world's creation. Mishaabooz is the great trickster spirit who shape shifts into many creatures, most often into a giant Rabbit. It's in this form that the trickster is often sent to the earth by Gitche Manitou to teach the Ojibwe peoples.


Adanya Dunn, soprano
Samuel Chan, baritone
Louise-Andrée Baril, pianist
Corey Campbell, Aboriginal vocalist/drummer
Andrew Balfour, Singer/Percussion

The program invites audiences into a mesmerizing and utterly immersive experience featuring a cast of 10 intercultural vocal singers bringing together diverse styles and heritages.
"The Music of the End is where all is forever erased, where all becomes infinite silence."
—CLAUDE VIVIER
Chris Abraham, director
John Hess, music director
*Two European tours are currently planned for 2018/19*
OCTOBER 27 – NOVEMBER 4, 2017
Soundstreams @ CROW'S THEATRE
345 Carlaw Avenue, Toronto, ON

A 70-minute staged performance program of the music by Quebecois composer Claude Vivier, one of Canada's most brilliant composers of all time.

Musik für das Ende (The Music of the End)
World premiere of the first staged production

Glaubst du an die Unsterblichkeit der Seele?
(Do You Believe in the Immortality of the Soul?)
Soprano solo, staged production
Soloist in Magnificat by Kim André Arnesen, for women's choir, soprano soloist, strings, piano, and organ, and solo pieces for voice and piano.
The program lyrics centre around the light of love and the light of the eternal, beginning with Stephen Hatfield's Sweet with Star Light. Light is also a theme in Ola Gjeilo's atmospheric Tundra and Paul Halley's Voices of Light. Additional music by Sarah Class and Antonio Vivaldi.
Cantores Celestes will continue its tradition of giving to charity with a $1,000 donation in support of the art and music program at Stella's Place, a Toronto organization providing mental health services for 16 to 29 year olds to help them move forward.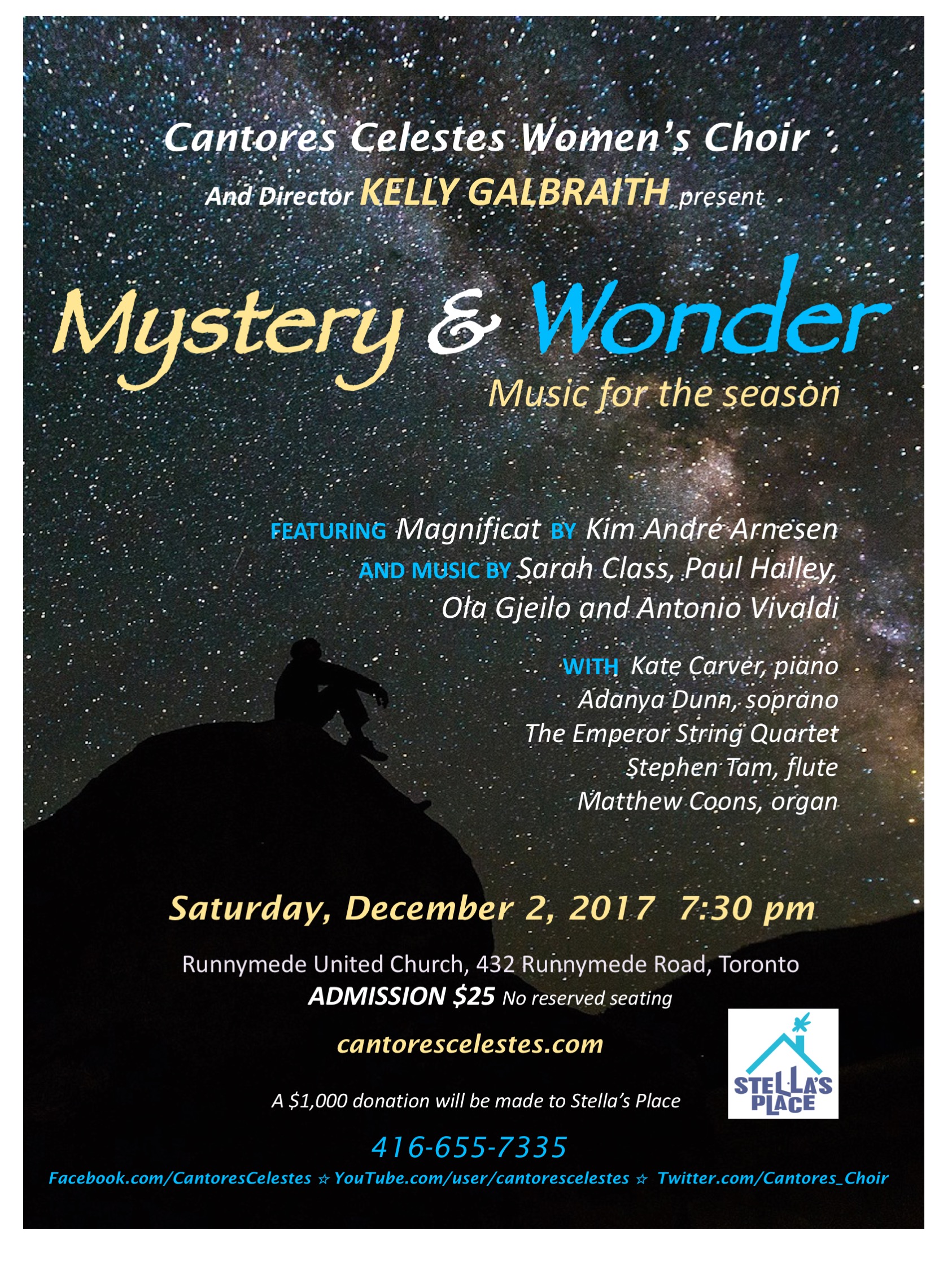 2017-2018: The HAPPENSTANCE Series
Happenstance is a chamber music series that looks to create a context for the music of the 20th and 21st centuries. Through thoughtful and unlikely pairings, Happenstance brings new sounds, colours, and narratives to the concert stage in Toronto and beyond.  

"It rarely happens that a recital series strikes excellence in programming from the word go, but … soprano Adanya Dunn, clarinetist Brad Cherwin, [and pianist] Alice Hwang … are doing just that. Next time these people throw a recital, run don't walk."
—LYDIA PEROVIC, Definitely the Opera
Curated, Created and Performed by: Adanya Dunn, soprano, Alice Gi-Young Hwang, piano, and Brad Cherwin, clarinet. Guest Artists are regularly featured throughout the season.

The second season of The HAPPENSTANCE Series will be announced November 2017!
SPRING 2018:
Synesthsia IV – Pandora
FAWN Chamber Creative presents:
A triple bill of opera-ballets
Toronto, ON
The world premiere of three 20-minute opera-ballets by three Canadian composers, David Storen, Joseph Glaser and Kit Soden.
Amanda Smith, director
David Brock, librettist
Jennifer Nichols, dancer
Adanya Dunn, soprano & dancer
Jonathan MacArthur, tenor & dancer
Official dates TBA!